EMERIA Dinard Hotel Thalasso & Spa
EMERIA Dinard Hotel Thalasso & Spa chooses Brossier Saderne lighting fixtures to renovate its rooms
Facing the sea, between Mont Saint-Michel and Cap Fréhel, at the entrance of Saint Malo and the Saint Briac golf course, EMERIA Dinard Hotel Thalasso & Spa benefits from an exceptional environment. The first phase of the 4-star hotel's ambitious renovation project was recently completed. On the agenda: the reorganisation and complete renovation of its 103 sea-facing rooms.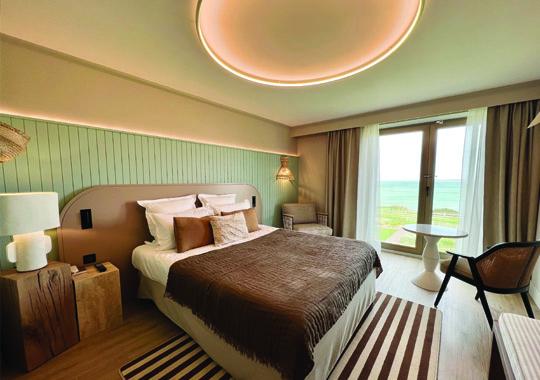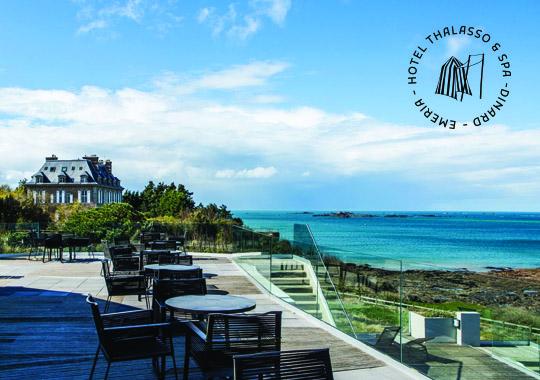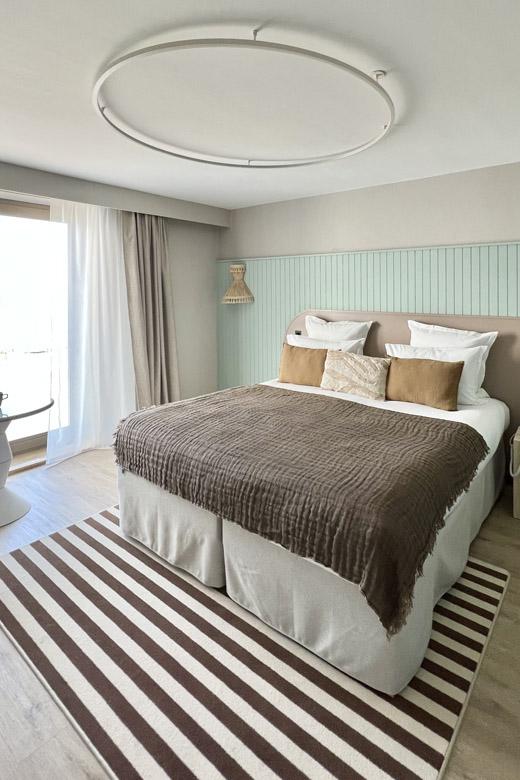 As part of the Forstyle Hotels Collection group, the hotel in Dinard has given its new rooms a distinctive touch and a unique identity. The aim? To make them real places to live, where the sea air blends with a 'home from home' atmosphere.
Dressed in the blue of the sea, sandy beige and pastel green woodwork, the rooms are illuminated in the colours of the Emerald Coast. The manufacturer BROSSIER SADERNE was asked to provide the lighting. The NOVARE suspended luminaires, whose colourimetric quality proved to be a key criterion, provide warm, even lighting and contribute to the harmony of the premises in a soothing environment.
Finally, the reorganisation of the spaces has created 3 new suites designed to welcome families in search of rejuvenation. Whether you choose a Classic, Deluxe, Triple or Suite room, the sea is present at every moment of your stay.
"Despite the very tight deadlines, this challenge has been a daily human adventure, working hand in hand with numerous partners such as the Legendre Group, Wunder Architects, Cushman & Wakefield Design & Build, The Great Hospitality and many others," explains Bruno Vilt, General Manager of Emeria Dinard.
_________
Permissions and thanks to: 
EMERIA Dinard Hôtel Thalasso & Spa - www.emeriadinard.com
The Great Hospitality - www.the-great-hospitality.com
Photos : Gilles Trillard et EMERIA Dinard Hôtel Thalasso & Spa
EMERIA Dinard Hôtel Thalasso & Spa
1 Avenue du Château Hébert, 35800 DINARD
Informations et réservations : www.emeriadinard.com