MERCURE HOTEL & SPA DOMAINE DE MARLIOZ
Mercure Hotel Domaine de Marlioz, the jewel of Aix-les-Bains...
After six months of renovation works, the Domaine de Marlioz has been given a new lease of life in this beautiful natural environment having been completely transformed and expertly designed by Agence A26 Igloo.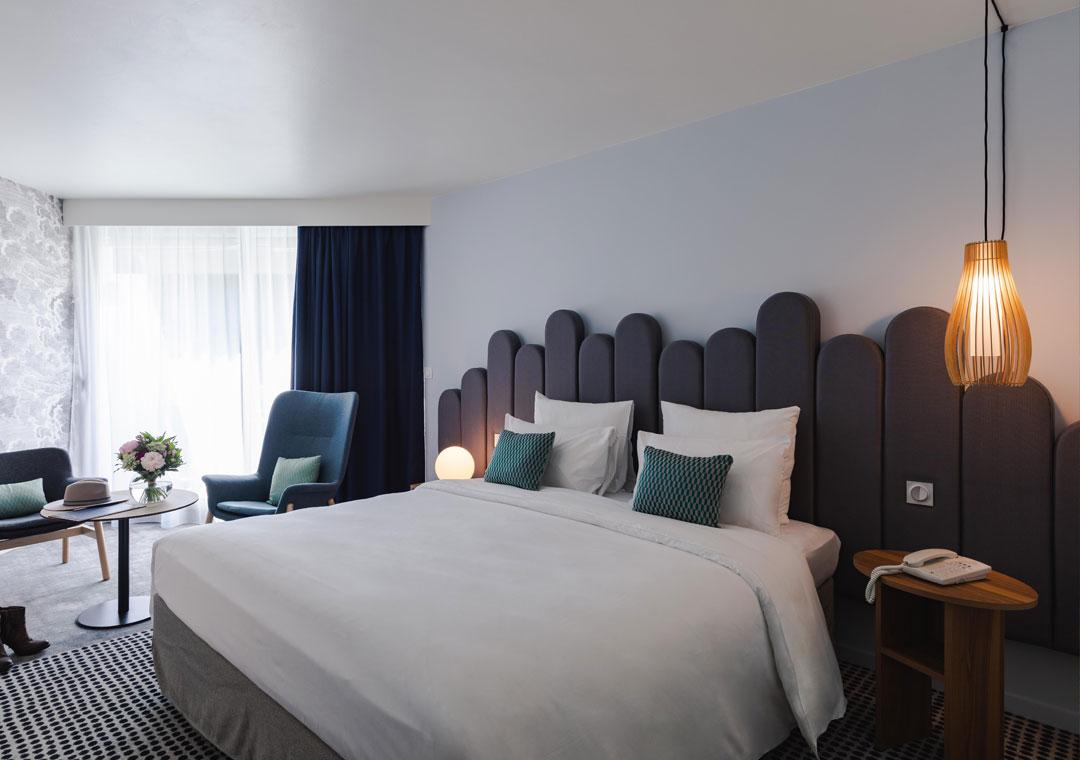 ©Photo François Aubonnet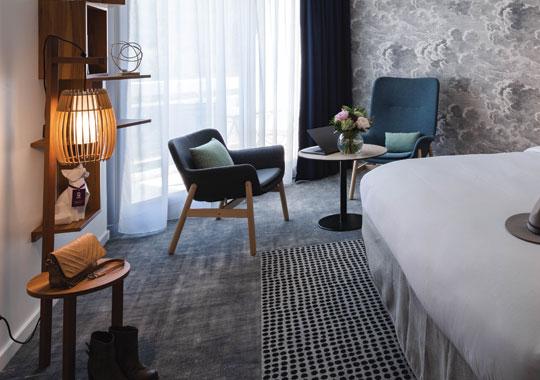 ©Photo François Aubonnet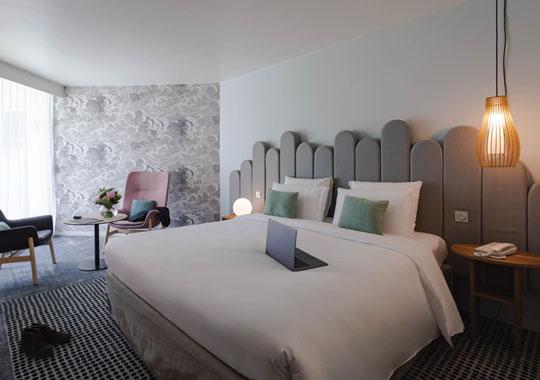 ©Photo François Aubonnet
The new and improved Mercure Hotel
No detail has been overlooked in this extensive renovation project. On the ground floor, the reception and lounge areas have been reconfigured in order to open up the space and improve flow for guests, from the moment they arrive until the moment they leave. In terms of decoration, the premises have been given a warm, welcoming and cosy vibe.
The bar has been redesigned for improved access to the newly restructured outside areas and patios. The restaurant, which is the very heart and soul of the hotel, has been given a contemporary feel with water-inspired blue and green tones.
The 60 bedrooms have been redecorated with warm colours reminiscent of the earth and the air for a soft and cosy atmosphere. A dreamlike, powdery pink, cloud-shaped headboard takes centre stage on the wall above the bed, beckoning us to drift off to sleep and dream to our heart's content. Agence A26 Igloo called upon the expertise of lighting specialist Brossier Saderne to design, in its Angers-based workshop, the decorative birchwood lamps and ceiling lights. The bedrooms measure 29 m2 and comprise a living area, ideal for doing a spot of work or simply relaxing with one of the books made available to guests in the hotel's library.
The ultimate in wellbeing
With its NUXE Spa and thermal bath area, water is part and parcel of the DNA at Domaine de Marlioz. The spa offers 800 m2 of premises dedicated to your wellbeing and its high quality services and treatments are also open to outside visitors.
Strict hygiene measures as recommended by the AFNOR association In accordance with the policies of the AccorHotels group and the C.F.H. network, Domaine de Marlioz adheres to a strict protocol in order to ensure the safety and wellbeing of its guests and employees. From face masks and frequent cleaning to hydro-alcoholic hand gel, social distancing and customer flow paths, all efforts have been taken to protect and reassure guests from the moment of their arrival and throughout their stay.
The Hôtel Mercure by Domaine de Marlioz was selected by the Accor group as one of the flagship hotels to represent the brand in 2020.
Photos : François Aubonnet
Hôtel & Spa Mercure Domaine de Marlioz, 111 Avenue de Marlioz Cs 50146, 73100 Aix-les-Bains - France - www.domainedemarlioz.com
A26 Igloo, 6b rue des Galvents, 92140 Clamart - France - www.a26.eu