Lighting up Les Nomades Hotel in Beaune
Nestled in the lush green surroundings of the Route des Grands Crus, in close proximity to the Hospices de Beaune, hotel Les Nomades**** promises guests a relaxing break in beautiful natural surroundings. Expertly designed by the Studio ADM interior architecture agency, collection items and artefacts have been sought from near and far to contribute to the unique atmosphere of the premises and reflect a passion for travel…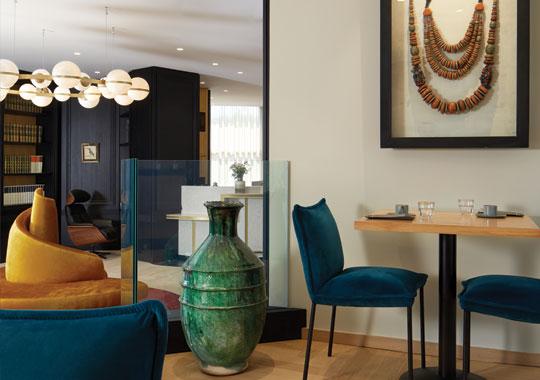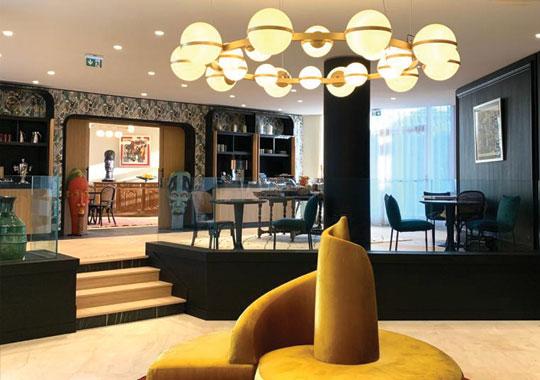 Studio ADN has placed the focus on materials that embody the best of local savoir-faire whilst prioritizing the ergonomics of the premises in order to improve the experience for guests of the hotel. Every effort was made to fully embrace the original values of this luxury establishment with a particular emphasis on visual elements through the use of a strong brand identity.
Brossier Saderne a was entrusted with the task of lighting up the bar and library areas by designing and producing ceiling lights composed of multiple spheres of white oval glass curved around a brass finish loop. Resembling planets in orbit, they beckon us to dream and travel whilst sipping on one of the region's finest wines. A little further along lies an angular and futuristic wall light which was created by the engineers at the Angers-based lighting specialist's design office and then produced in the company's own workshop. Composed of a wooden plaque with a marble laminate surface and lacquered brass finish, it casts an indirect glow throughout the warm and relaxing interior.
The hotel's 47 rooms and suites have been given a soft and diffused lighting thanks to bedside reading lights in a lacquered black finish and black lampshades with a golden interior also created by Brossier Saderne. They radiate a direct and/or indirect light depending on the degree of luminosity desired by the guest.
This relaxing environment offers an extensive range of activities to choose from.
Take a leisurely stroll through the gardens and pool area, treat yourself to a glass of Burgundy personally selected by the barman whilst relaxing in the bar or lounge area and finish off with a refreshing dip in the large outdoor swimming pool. If the sun is in hiding then you can always enjoy the beautiful heated indoor swimming pool instead, complete with views across the gardens, or simply relax in the sauna, work up a sweat in the gym or peruse the library…
This spectacular accomplishment by Studio ADN has transformed the luxury establishment into an exceptional 4 star hotel combining authenticity and charm for a truly unforgettable stay!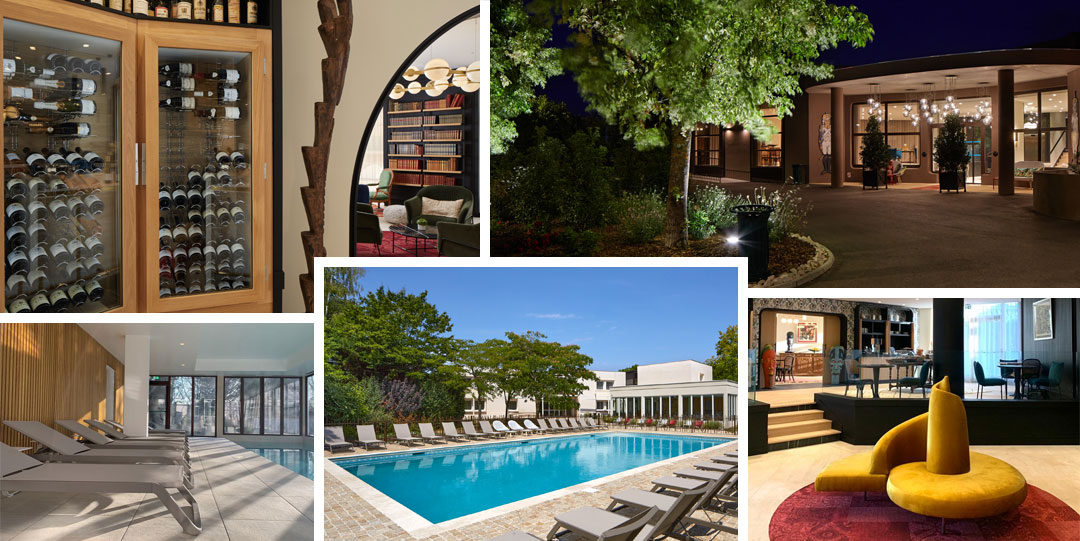 __________
Special thanks and photo credits to :
Hôtel Les Nomades and Monsieur Fabrice Derats
Agence d'Architecture Intérieure Studio ADN - www.studio-adn.com
Hôtel Les Nomades****
61 Rte de Pommard, 21200 Beaune