HOTEL MOLITOR PARIS - MGALLERY
BROSSIER SADERNE LIGHTS UP MOLITOR
This new luxury 5 star hotel covers almost 13,000 square metres of surface area. It is steeped in history and built around the outdoor swimming pool known as the "summer pool". The hotel is managed by the Accor group under the brand Mgallery and all of it's 124 bedrooms over look the lido swimming pool complex.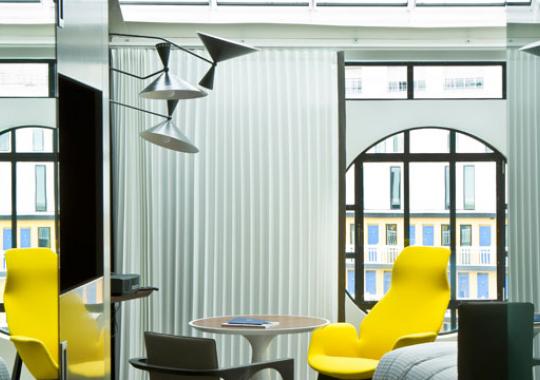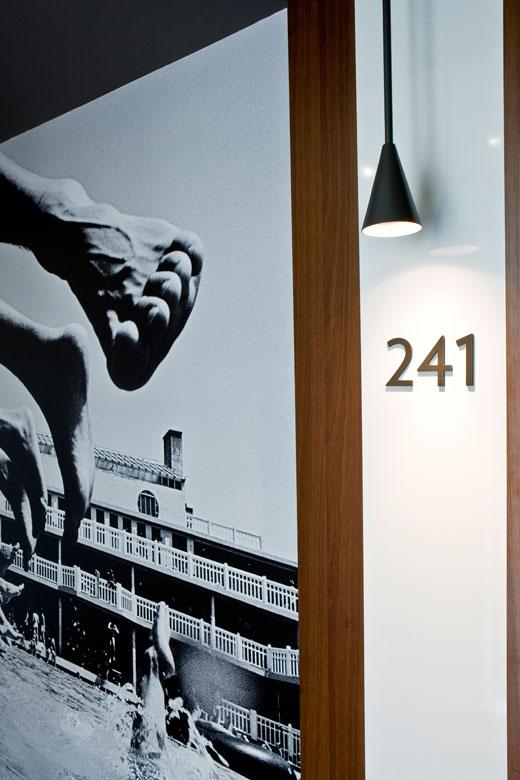 The new Molitor was designed by architect and interior designer Jean-Philippe NUEL who has retained as much of the original swimming pool's design as possible.
Although the pool had been known for a long time as the ''white liner'', the 1933 Guide Bleu made reference to its tango yellow walls. This colour, similar to mustard yellow, was therefore chosen for the walls of the mythical swimming pool. The mosaïcs around the indoor ''winter pool'' were crafted by the same manufacturer as the original ones and with the exact same colours. The stained-glass adorned with motif of swimmers and railings are some of the remaining features. The decorative lighting fixtures were designed by lighting specialist BROSSIER SADERNE and fit perfectly with the hotel's chromatic colour scheme, bedrooms and corridors. 
"When we discovered the original art deco elements, we decided to renovate the hotel according to Lucien Pollet original 1929 designs" explains Director Vincent Mézard. The architecture itself, however, retains a contemporary feel as Jean-Philippe Nuel, interior designer and architect, wanted to combine these two different times of the Molitor. Care has been taken to retain the original tags and graffiti from the Molitor's closing in 1989 up until the present day. The stylish restaurant and bedrooms have all been decorated in street art style creating a new trendy place. 
In keeping with its status as a luxury hotel, there is also a 1700 square metres spa, a bar and several restaurants. There will soon be a barbecue area on the rooftop from which you can admire the spectacular views across the capital city. Perfect for lunch or a drink whilst looking out towards the Eiffel Tower, the bois de Boulogne and the centre court benches of Roland Garros.