Hotel MGallery Nest Paris
Hotel MGallery Nest Paris: an elegant renovation by Oscar Lucien Ono
After over a year of renovation works, the Sofitel La Défense hotel has not only been given a brand new look but also a brand new name. The newly named Hôtel MGallery Nest Paris La Défense is a new hotspot with an eclectic decor. Its 151 bedrooms and 16 suites are bright, spacious and have been treated to eye-catching colours thanks to this new design project.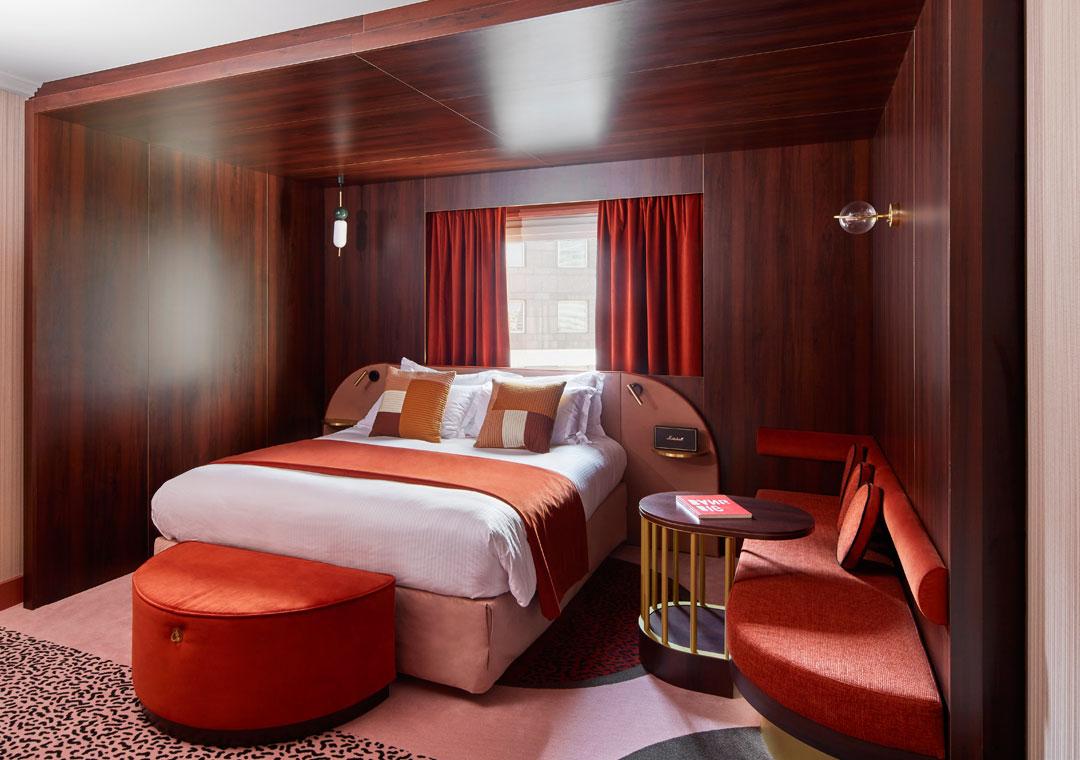 ©Francis Amiand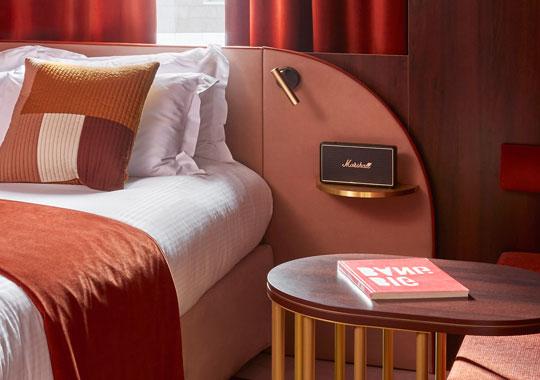 ©Francis Amiand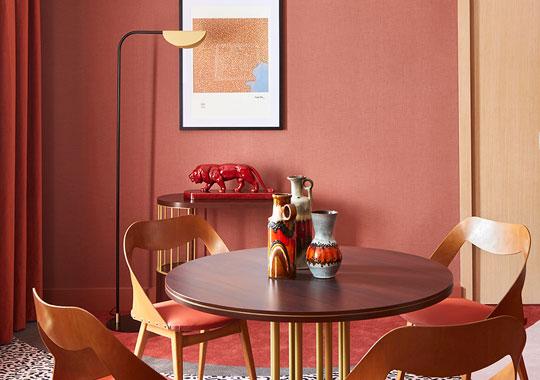 ©Francis Amiand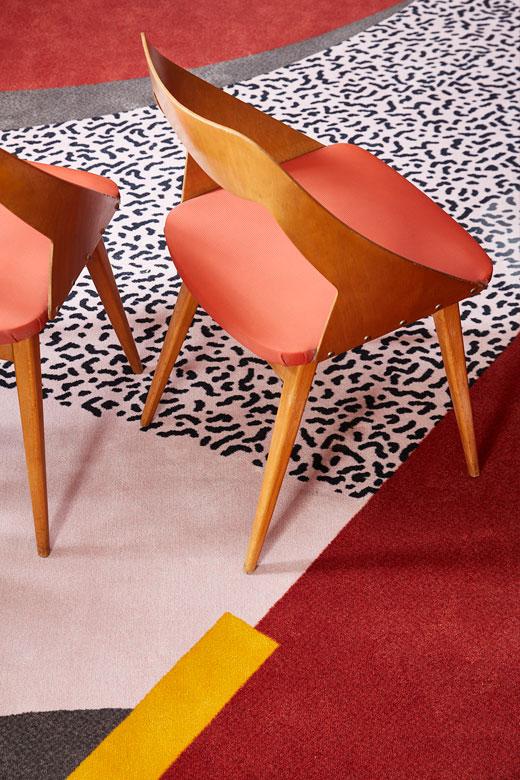 ©Francis Amiand
Influenced by bold colours and Memphis style patterns, the hotel mixes and matches precious and raw materials. Stripes, marble, brass and leather are complemented by visual effects created by mouldings, patterns and materials. The decorator and founder of agency Maison Numéro 20 has succeeded in creating a patchwork of shapes and textures resulting in an original, fun and elegant vibe.
In the bedrooms, the floors, walls and furnishings are awash with soft and light nuances of pink, orange, yellow and terra-cotta for a warm and cosy feel. High quality fabrics such as velvet, mahogany and marble have been given a Memphis inspired twist thanks to designer Oscar Lucien Ono who also incorporated elements of 1980's Italian architecture and decoration into the interiors. An ebony wood panel lines the wall next to the beds in order to differentiate the sleeping area. The lighting was entrusted to Angers based lighting expert Brossier Saderne who designed the black and brass finish reading lamps.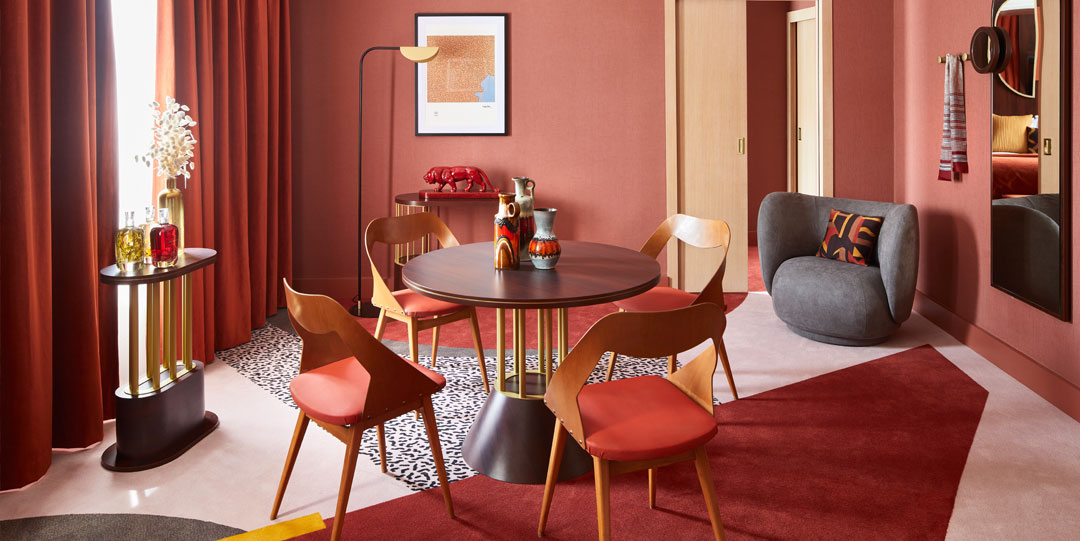 Shades of red and orange were chosen for the spacious suites situated on the top floor of the hotel. Varying tones of terra-cotta add a splash of colour to the walls, floors and fabrics with the modern and sophisticated colour scheme offering a nod to the Milanese style of interior. Touches of brass blend in harmoniously with the clean lines and sculptural patterns. Also created by Brossier Saderne, the floor lamps feature a curved metal lampshade and brass finish to diffuse a golden glow that complements and enhances the soft, cosy tones of the furnishings.
Having been completely transformed and decorated by Oscar Lucien Ono, this urban resort is now welcoming a new type of guest who is looking to immerse themselves in the world of design. MGallery Nest Paris is fast becoming the new chic and arty headquarters of the capital city.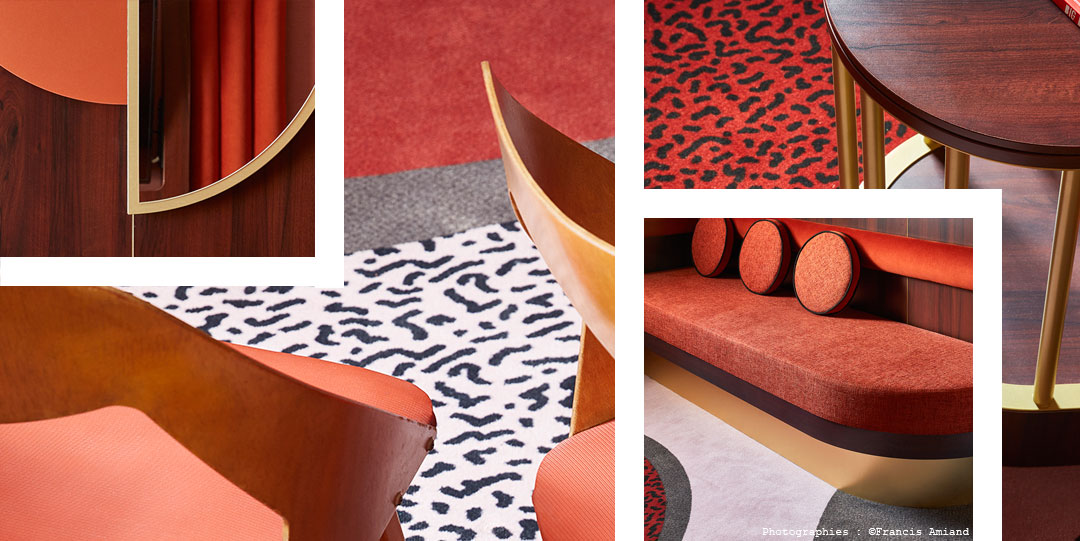 Authorization and many thanks to Maison Numéro 20 and Oscar Lucien Ono - www.maisonnumero20.fr
Photographs kind courtesy of Francis Amiand - www.francisamiand.com
Hôtel MGallery NEST Paris La Défense, 34 cours Michelet, PARIS La Défense, FRANCE - www.all.accor.com